This week's challenge over in the
Blog Challenge Garden
was to use the Number 7 on our tags. I love these challenges, they kick my brain into gear. Mind you, thats not always such a good idea, lol, because then loads of ideas start spinning around up there and I have trouble picking one. I did settle very quickly on this one though, I was in a pale, creamy mood.
It took me ages to find the right little faces I wanted to use as a faint background, I have so many pretty little girls in my collection . If you look closely at the tag, you can see that there are SEVEN beautiful little faces in the background. The NUMBER SEVEN is made up of little lace flowers and of course there are SEVEN little sparklies on either side at the top of the tag.
Tadaaaaa -
If you have a few minutes and like looking at tags, then please hop over to the
Blog Challenge Garden
and see what the others have come up with.
As this tag is made with lots of shades of white, I am also linking this to White Wednesday over at the gorgeous
Faded Charm
blog. You'll have a ball going through all the fabulous white links!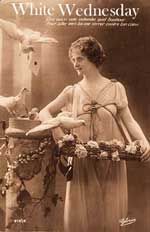 Today is your last opportunity for entering the giveaway. I will be drawing the winners first thing tomorrow morning. If you haven't entered yet, you can do so
HERE
And yes, that wasn't a typo, I did mean winnerS, I have decided to draw a second name and send them a little something. And because all good things come in threes, there will be a third name drawn as well, for another little something. Which I haven't decided on yet, lol.
Good luck to all who have entered, and toodlepip xxx